Fall Leaf Cookies with a Twist and a Giveaway!
I saw this idea at sheknows.com and thought it was the neatest idea I had ever seen, cookie-wise.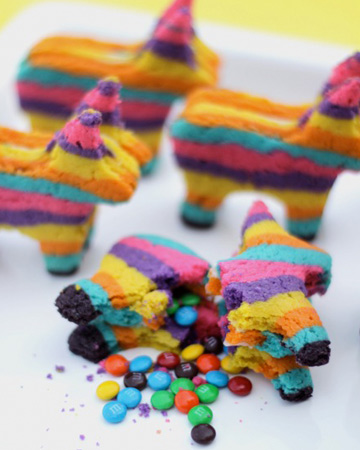 And then there was this post by the incredibly creative Glory from Glorious Treats. They are simply adorable and super cute!

With inspiration like that floating around in my little head, I was longing to give this a try for myself. Problem was, I wanted my own design. Then I came upon these little lovelies and I knew that I had found my inspiration.
And this is what I came up with:
Here is the tutorial.
I made my favorite sugar cookie recipe by Bridget at Bake@350. Then I colored it by separating the dough into 3 bowls and adding gel food coloring. I used Americolor Super Red, Yellow and Orange. Next, I took the dough and portioned it out onto my parchment paper in a patter that would mix the colors together, giving the look of a Fall leaf.
I rolled that out and decided if I need to rearrange and reroll some of the areas. I was trying to get a good mix of colors.
When I was happy with the color structure, I used my leaf cutter to cut out 3 large leaves. From one of the leaves I used the small cutter from the set to remove the center. (For the record, these cookies would be totally awesome if you just left them whole and served them as normal, individual cookies. The beautiful mixture of fall colors is certainly enough on it's own!)
Repeat until you have the number of sets you are working toward. Bake at 350 for 12 – 14 minutes. My oven is crazy uneven so I rotate my pans and swap them from one side of the rack to the other and give them another minute or two. You want them just lightly browned on the edges.
To assemble the pieces, select two whole leaves and one with the center cut out. Put orange royal icing, outline consistency, around the edges of the open leaf.
Flip the open leaf over onto the leaf serving as the bottom to glue them together. By the way, I turned the bottom leaf over first so the flat side was receiving the glue. Don't know why I did this, it just made sense to me.
Once the royal icing "glue" is dry, add the candy. I used Reeses pieces because they are Fall colors and I love them!
Now use royal icing to "glue" the top piece on. Allow to dry, preferably overnight. You could embellish if you like or simply hand them out and make someone's day.
If you would like to win a set of these cookie cutters just visit my Facebook page and click on the Giveaway link. Everyone has 2 chances to win. I'll be picking a winner at 8am on Friday 11/16/12 so that I will have time to get this adorable little set mailed to the winner in time for Thanksgiving! Thanks for all of your support. Keep flourishing!